Bay Area legend DJ RasCue releases the second volume of his "Got Kidney?" compilation for the 10 year anniversary of his project for Organ Donor Awareness.
https://gotkidney.bandcamp.com/album/got-kidney-10-ten-year-anniversary-extended-edition
Welcome to the Compilation Soundtrack "Got Kidney? Volume 2". This collection of music is in support of Organ Donor Awareness, Nutrition, Health Education and Safety. Compiled by longtime SF-Bay Area, CA "DJ RasCue (Various Blends/Cali Agents)", a renal failure(kidney disease) survivor and recent kidney transplant recipient, this "mixed-genre" compilation features Underground Hip-Hop, International, Latin and Reggae independent artists from around the World!!
We are delighted to introduce a Volume 2 to this great collection of Independent Artists Worldwide! Similar to our Got Kidney? Ten-Year Anniversary Edition, this compilation includes Extra Tracks, Exclusive Selections, Video Links and Additional Bonus Songs!!
With an even more eclectic line-up a second time around, Volume 2 finds our Artists covering topics from Health to Nutrition, Motivation and Inspiration, Illness and Abuse, Strength and Preservation, Relationships, Injustice, Culture and Community and More! Special Thanks to all the Artists for their participation in this project. Portions of the Proceeds go towards the G.K./Uppitees Fashions Donation Fund(Providing masks and other safety materials for patients in dialysis, cancer and other illness centers) and the Official George Floyd Memorial Fund.
GOT KIDNEY? VOLUME 2! A Multi-Genre Compilation Soundtrack of Independent Artists Worldwide in support of Health Education and Safety, Nutrition, Organ Donor Awareness, Mental Illness Awareness and Cultural and Community Education. Featuring Artists Azeem & Fanatik(onBEATS), Planet Asia(Cali Agents/Yard Massive)), J-Ro from Tha Liks, Banga Brownin, Slimkid3 and Nu Mark, Black Aesop, DJ Format, Z-Man and many more. Exclusive selections from Martin Luther, Nara Boone, Lance Canales & The Flood and more! Extra Tracks from Kool DJ Rize, E Da Boss featuring Gift of Gab(Blackalicious) and Lateef the Truth Speaker(Latryx), King Solomonic, Sasaraman and K.nightshift plus Bonus Songs.
Check out the compilations of grab your copy below.
https://gotkidney.bandcamp.com/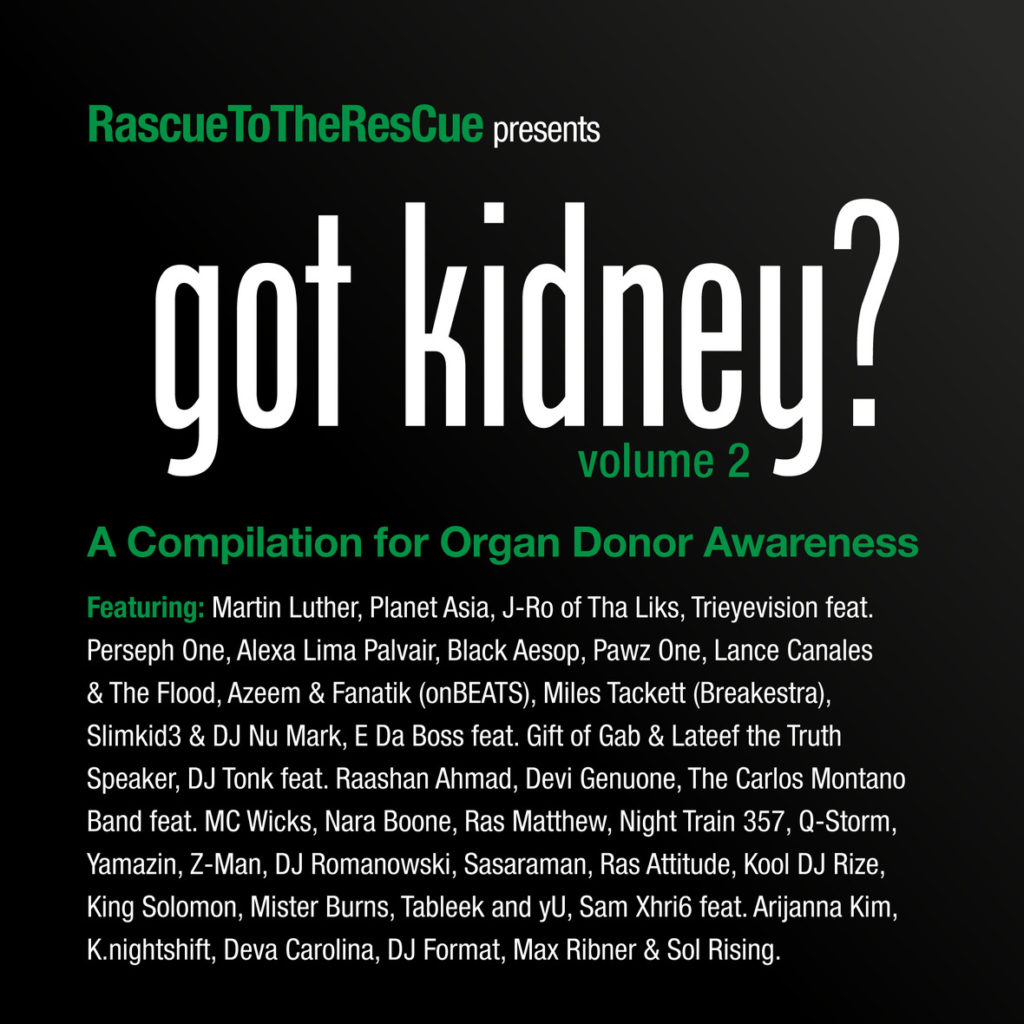 Connect
https://gotkidney.bandcamp.com/
Twitter.com/RasCue
https://www.facebook.com/gotkidneyorgandonorawareness/
https://www.instagram.com/RasCue
https://www.instagram.com/Variousblendsofficial