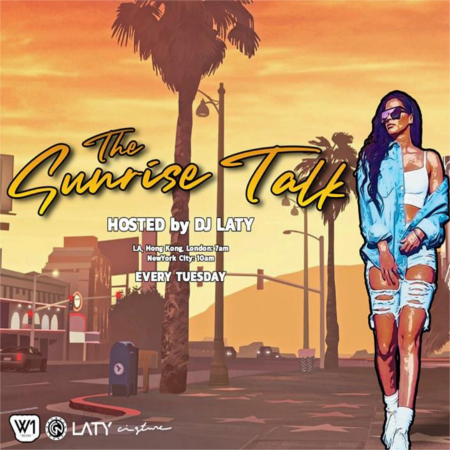 The Sunrise Talk is your new weekly show hosted by Latysha Milko aka DJ Laty from Paris, France. Laty is going to wake you up with fascinating & spicy interviews of international DJ's, producers and singers and their professional and private life. Great hip-hop and afrobeats music as well as new fresh mixtapes playing between the talk will put you in the great mood.
Best time to catch it worldwide on Tuesday:
7am in LA
7am in London
7am in Tokyo
10am in NYC

9am in Mexico
8h a Paris le mardi matin
Laty (Laura Latysha Milko) is a DJ, producer, designer, choreographer and fashion model.
​At sixteen years old, Laty started to perform as a rapper & write and compose music and collaborate with several artists in hip-hop music industry. Few years later, Laty established herself as a DJ in her hometown in Bratislava, Slovakia, where she originated the fusion of hip-hop, afro beats, dancehall and trap music. By the following year, Laty was behind the turntables in several night clubs, private parties and shows at Film Festival des Cannes, Louis Vuitton and Yves Saint Laurent fashion shows, showcases of artists like Tory Lanez or Migos, she also hosted nightclubs in Paris, Prague, London, Monaco, Cannes, Milan, Barcelona, Casablanca,  Dakar, Dubai, etc.
Today, Laty is a resident DJ for different events and parties in Paris, and also hosts different clubs and venues in UK, Italy, Spain, South America, Carribean and others. Latysha is also producing music and currently working on her first EP.